I wrote the post below last week, but never published it. I thought I would wait and maybe check out some more shoes first.

Then I went to Target on Saturday. And bought these:



Only $19.99 -- how could I resist? They're totally cute, tall enough (we did a test dance in the Target shoe section), and definitely able to be worn again. Or even before the wedding...


I might keep looking. Or I might not.






~~~~~~~~~~~~~~~~~~~~~~~~~~~~~~~~~~~~~~~~~~~~~~~~~~
Original, unpublished post:

I went to Off-Broadway Shoes last week and found these candidates:

Kenneth Cole Reaction -- "Rags to Riches," silver, 3" heel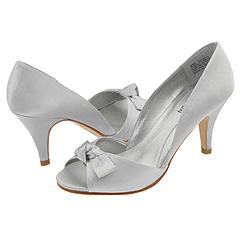 Steve Madden -- "Martha," purple (but I can only find a picture of it in black), 4" heel













And finally, a GREAT pair of purple pumps by Michael Shannon, style name "Anna," which seems to be a discount brand that only Off-Broadway Shoes carries, which means they do not exist on the internet at all apparently, but they were ADORABLE. If you see an Off-Broadway Shoes commercial, they're the first pair they show -- peep toe with striped purple fabric... hard to explain, but very cute. And I think because they are so difficult to find, I might just have to buy them. Sigh.

Check out what Target has!
Isaac Mizrahi for Target -- Laurel, silver, 3.5" heel. I can't usually wear slingbacks, though -- they always slip off. They do share their name with my sister, though.













Mossimo -- Heulwen, silver, 3" heel













Mossimo -- Hailey, silver, 4" heel -- a very strong candidate, and only $19.99! Also a slingback, though.














The Nordstrom's website offers a few candidates as well:
Nina -- Gordie, true silver or deep plum, 3.5" heel













Calvin Klein -- Riza, silver satin, 3.5" heel














Nina and Chinese Laundry have many other options as well.

I'm not hard to please -- a tall, strappy sandal with a d'Orsay heel or ankle strap in silver or purple is all I need. Thankfully, price constraints are going to make these decisions much easier.